Axel Plant Growth Promoter Powder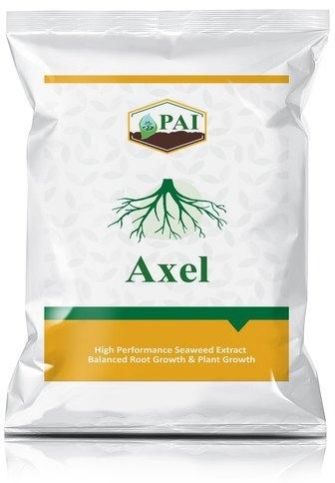 Price :
573.00
/ Kilogram
MOQ : 500 Kilogram
Business Type
Manufacturer, Supplier, Retailer, Wholesaler
Form
Powder
Country of Origin
Made In India
Purity
98 %
Click to view more
Product Details
Usage/Application
Agriculture
Axel increases the absorption and utilization of potassium, improves soil structure, promotes the growth of crops, increases crop resistance and improves crop quality, also High Quality Root growth regulator.

Axel is a combination of seaweed extract with various natural plant sap (contains Natural Occurring Hormones, Vitamins, Minerals, Enzymes & various Phytochemicals), Natural macro & micro nutrients along with Humic Acid, Fulvic Acid & range of Acids with unique nutrient formulation.

Benefits:  
Its Uptake the nutrients to plant.
They physically & chemically improves the structure of the soil.
It's maintain the water holding capacity in  proper way.
They biologically stimulate the plant and the activities of amino acid.
Increases the white fibrous roots under the ground. 
It also helps in increasing the foots of plants since it is having enough fulvic content.

Main usage: Effective and relevant in all type of Agriculture. For Big usage ,    it can be used in less quantity with chemical fertilizers.

Dosage Recommendations: 
Soil – 1 kg/acre 
Drip – 0.5 kg / acre 
Foliar Spray - 500g/ acre (Spray at 7-10 days interval)(For Horticulture Crops Spray at 15-20 days interval)


High Performance Seaweed Extract Balanced Rooth Growth & Plant Growth.
Looking for "
Axel Plant Growth Promoter Powder

" ?
Kilogram