Jambo Suger Weight Size Specialist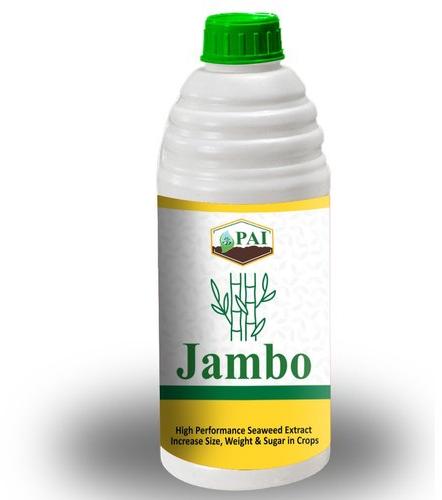 Business Type
Manufacturer, Supplier, Retailer, Wholesaler
Country of Origin
Made In India
Purity
98 %
Form
Liquid
Click to view more
Product Details
Application
Water Soluble, Sprey, Drip Irrigation, Farming, Gardening, Agriculture
Jambo is 100% natural liquid water soluble fertilizer. Jambo  promotes & stimulates cell division in plants. Among other actions, it improves plant growth, sets blossoms, and improves fruit quality, when used with Gabbar, fruit's shape can be improved. Jambo formulation is based on "PAI" technology and scientifically designed in such a way that it provide adequate phytonutrients to improve the Phyto nutritional value of most of the Fruit crops & root crops, It helps to revive soil fertility and healthy plant growth. It provides better environment for the microbial activities in the soil for healthy growth of tubers, rhizomes, corms and bulbs. It also enhances the efficient use of all nutrients provided through soil as well as foliar application to boost the vegetative growth of plant to produce more yield.

  Jambo is a combination of seaweed extract with various natural plant sap (contains Natural Occurring Hormones, Vitamins, Minerals, Enzymes & various Phytochemicals), Natural macro & micro nutrients along with Humic Acid, Fulvic Acid & range of Acids with unique nutrient formulation.

Benefits:  
Enhances Fruit Size & Weight, Sugar of fruits
Enhances Plants Weight & growth   
Fruit's shape can be improved. 
Stimulates cell division in plants 
lateral bud emergence (apples, oranges, watermelon, etc.) 
Basal shoot formation (roses, orchids) 
flowering (cyclamen, cacti) 
Fruit set (grapes, oranges, melons).
Helps to improve the resistance power of plants against biotic & abiotic stresses.
It helps to promote better plant health and growth
Helps to stimulate the decomposition of organic plant debris to improve organic matter, soil texture & maintain C : N ratio of the soil.
Provide specific phyto-nutrients during the development of corms, bulbs, rhizomes & tubers.

Dosage Recommendations: 
Soil – 2 liter/acre 
Drip – 0.5 - 1 liter / acre 
Foliar Spray - 1 liter/ acre (Spray at 7-10 days interval)(Horticulture Crops Spray at 15-20 days interval)
General Dose -   1-2 ml / liter


High Performance Seaweed Extract Increase Size, Weight & Sugar in Crops.
Looking for "
Jambo Suger Weight Size Specialist

" ?
Litre