Toofan Bio Stimulant Powder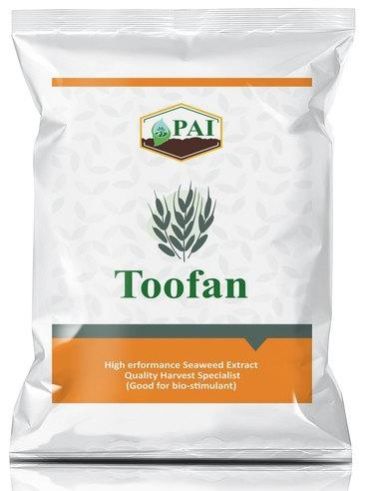 Price :
1,208.00
/ Kilogram
MOQ : 500 Kilogram
Business Type
Manufacturer, Supplier, Retailer, Wholesaler
Country of Origin
Made In India
Purity
98 %
Form
Powder
Click to view more
Product Details
Application
Water Soluble, Sprey, Drip Irrigation, Farming, Gardening, Agriculture
Toofan powder is a 100% water soluble natural fertilizer perfect for mixing in your sprayer, irrigation system. Toofan are the building blocks of proteins. They are fulfilled with natural proteins, Hormones, nucleic acid and peptides. Toofan is also important for metabolism growth, reproduction and immunity. It nourish plants and prevent form flower falling and improves weight and volume of fruits. 

Toofan is a combination of seaweed extract with various natural plant sap (contains Natural Occurring Hormones, Vitamins, Minerals, Enzymes & various Phytochemicals), Natural macro & micro nutrients along with Humic Acid, Fulvic Acid & range of Acids with unique nutrient formulation.

Benefits:
Increase Fruit Size and Weight of Targeted Crop. 
Increase Cell- Elongation and Cell Division and Ultimately Increase Yields.
Builds Resistance against Disease. 
Provide the Nitrogen in metabolism of plants. 
Protein Synthesis and Stress Resistance.
Improves soil buffering capacity.
Resistance to Environmental Stress.
Non Toxic and Safe to Environment.
Essential for Pollination and Fruit Formation.
Improves the uptake of micronutrient fertilizers. 
Improves efficiency of plants protection treatment. 

Main Usage:  Effective and relevant in all type of Agriculture. For Big usage,    it can be used in less quantity with chemical fertilizers.

Dosage Recommendations: 
Soil – 1 kg/acre 
Drip – 0.5 kg / acre 
Foliar Spray – 250g / acre (Spray at 7-10 days interval)(For Horticulture Crops Spray at 15-20 days interval)
General Dose -   2-3 gm / liter


High Performance Seaweed Extract Quality Harvest Specialist (Good For Bio-stimulant).
Looking for "
Toofan Bio Stimulant Powder

" ?
Kilogram